The Data Skills Framework is a tool that anyone can use to understand the skills needed to work with data. It helps you analyse your current approaches to data literacy, identify imbalances of skills, and address gaps in data literacy across your organisation.
Data skills courses need to balance technical with nontechnical skills to ensure that people can make an impact with data, and help ensure the best social and economic outcomes for everyone.
Research shows that if organisations focus solely on technology and technical skills, they are less likely to unlock the full value of data.
The Data Skills Framework illustrates how technical data skills must be balanced with other skills – such as service design, data innovation and change leadership – to help ensure data projects are impactful and lead to the best social and economic outcomes for everyone.
You can use the Data Skills Framework to identify and understand the requirement for this balance of skills – by analysing current skills and existing training programmes within your organisation.
This helps ensure that skills and capability development plans align with organisational goals and that silos are not created.
The Data Skills Framework is a tool for anyone who wants to develop an effective balance of data skills within an organisation.
Leaders wanting to ensure organisations have the right range of skills to execute strategies effectively. Learning and development specialists wishing to build capacity and improve current offerings. Teams aiming to develop skills and collaborate better.
Working as an individual or a group, the framework will: prompt you to explore a series of questions that create useful insights; allow you to better identify imbalances in your current approach; and help you create plans to address gaps in data literacy.
What are your strategic needs?
Using sticky notes or highlighter pens, highlight the areas of the Data Skills Framework that are required to support strategies or projects you are delivering. At an organisational level this is likely to include areas from across the entire framework.
What skills do you currently have?
Assess the current level of capability in your team, department or organisation. Highlight skills on the framework that are inadequately covered.
What does your current data skills development approach cover?
Analyse any training courses that your organisation currently offers and mark the data skills they target on the framework.
Where are the gaps?
Compare the skills needed to meet your strategic needs with existing skills within the organisation. Identify gaps in your current skills development plans.
What could you improve?
Identify existing development initiatives that would benefit from a more balanced approach or from the incorporation of additional skills from across the Data Skills Framework.
Once you have analysed your current situation you will be able to: check if your skills strategy encourages the development of a balanced set of skills identify siloed initiatives and find ways to improve collaboration revisit existing data literacy programmes and analyse how to improve their strategic impact decide where to invest in skills development.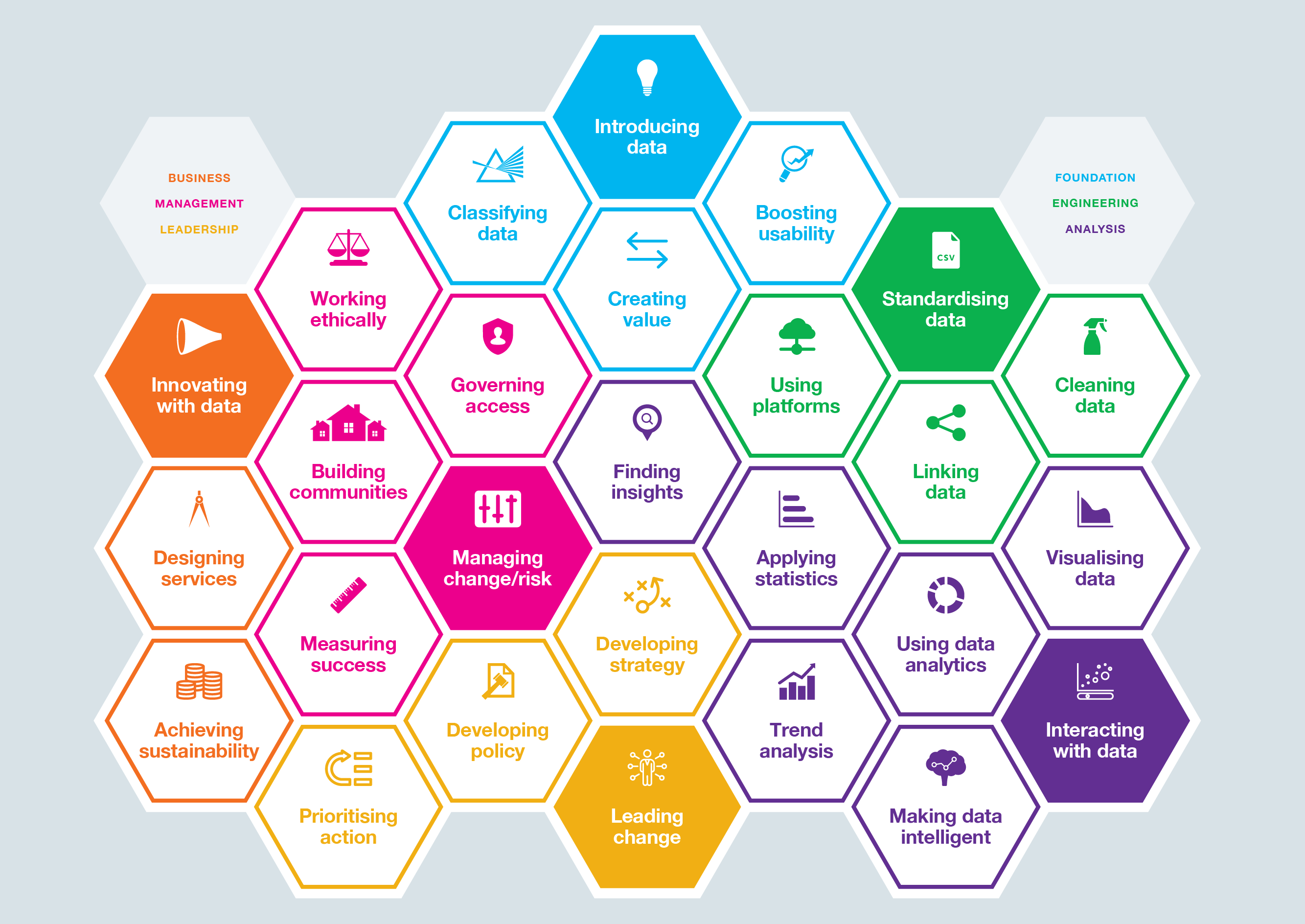 You may also be interested in...