Get ahead of data ethics and AI.
This course is for anyone who wants their business to make progress with data and AI, whilst avoiding harm.
Over the course of six interactive online modules, you will:
Develop a foundational understanding of data ethics
Explore ethics in the context of personal data
Examine data ethics across the data lifecycle - from collection to application.
Investigate issues of bias and fairness in data and AI
Study data ethics from a governance and CSR perspective
Learn how to embed data ethics into a business through the use of tools, processes and skills development.
Reflect on your own professional practice
Look into future trends in data and AI ethics.
Inspired by data pioneers, built for you
At a time when businesses are trying to get value from AI and data it's more important than ever to understand the landscape, filter out the noise and set a clear direction.
The Open Data Institute is a world-leading research and training institution founded by the creator of the web, Sir Tim Berners-Lee, and AI pioneer Professor Sir Nigel Shadbolt. Our research, training and practical work helps people, companies and governments build data infrastructure that benefits all.
More than 52,000 people worldwide have developed their data literacy using the ODI's self-guided training.
Created by a team of data specialists and learning designers, the Understanding Data Ethics and AI course will guide you as you turn theory into practice, and as you step-up to play a strategic role in helping your organisation get value from data.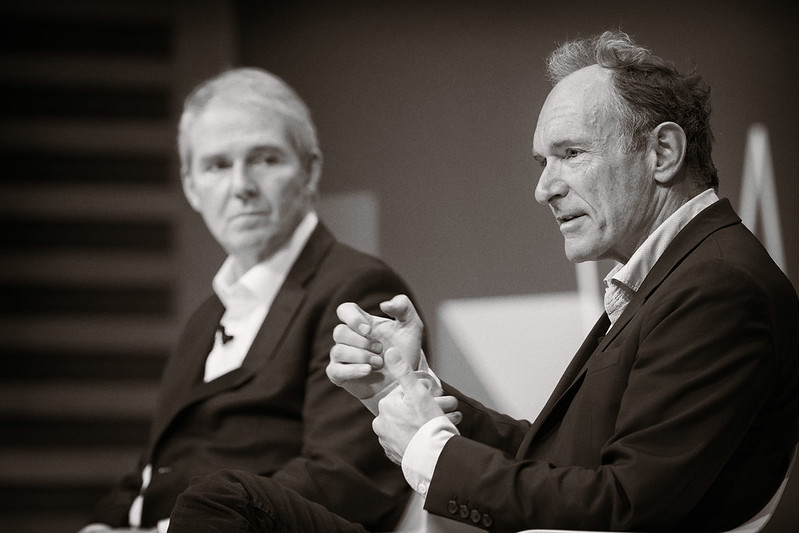 T

o ensure inclusivity, we offer discounted pricing for customers from lower or middle-income countries.
Please contact us for further information.
If you represent a business interested in purchasing four or more course spaces, please reach out to us for personalised discounted rates.
Who the course is for
This course is for both non-technical people and data specialists who want to influence and improve ethical data practices in their organisation
Previous attendees include start-up founders, CDOs, Chief Ethical Officers, data scientists and researchers.
Attendees come from start-ups, multinational companies, local and central government, NGOs and charities.
"Our team loved the course. The discussions afterward focused on how much we learned, how the energy was really good and the ideas and tools we now have for putting data ethics into practice in our work. Thank you...well worth the investment!."
Candice Bullmore, CEO, Mission Drive (Introduction to Data Ethics)
"The course was just a great start to understand what Ethics is and how it can influence or increased biases if we continue to do what we do moving forward with Ai + Machine Learning."
Geri Lee, GSK (Introduction to Data Ethics)
"If the future is in data, then the future power is in data ethics: not just using data, but using it wisely. By creating this course, ODI has made it easier for organisations to put together teams that can move with confidence that they are finding the balance between "could we?" and "should we?"
James Aylett (Chief Data Officer, Annalect), (Data Ethics Professionals Programme)
Course modules
Introduction to data ethics
Ethics and personal data
Ethics in data collection
Bias and fairness in data and ai
Transparency and explainability
Tools and frameworks for evaluating ethical data practices (at project level)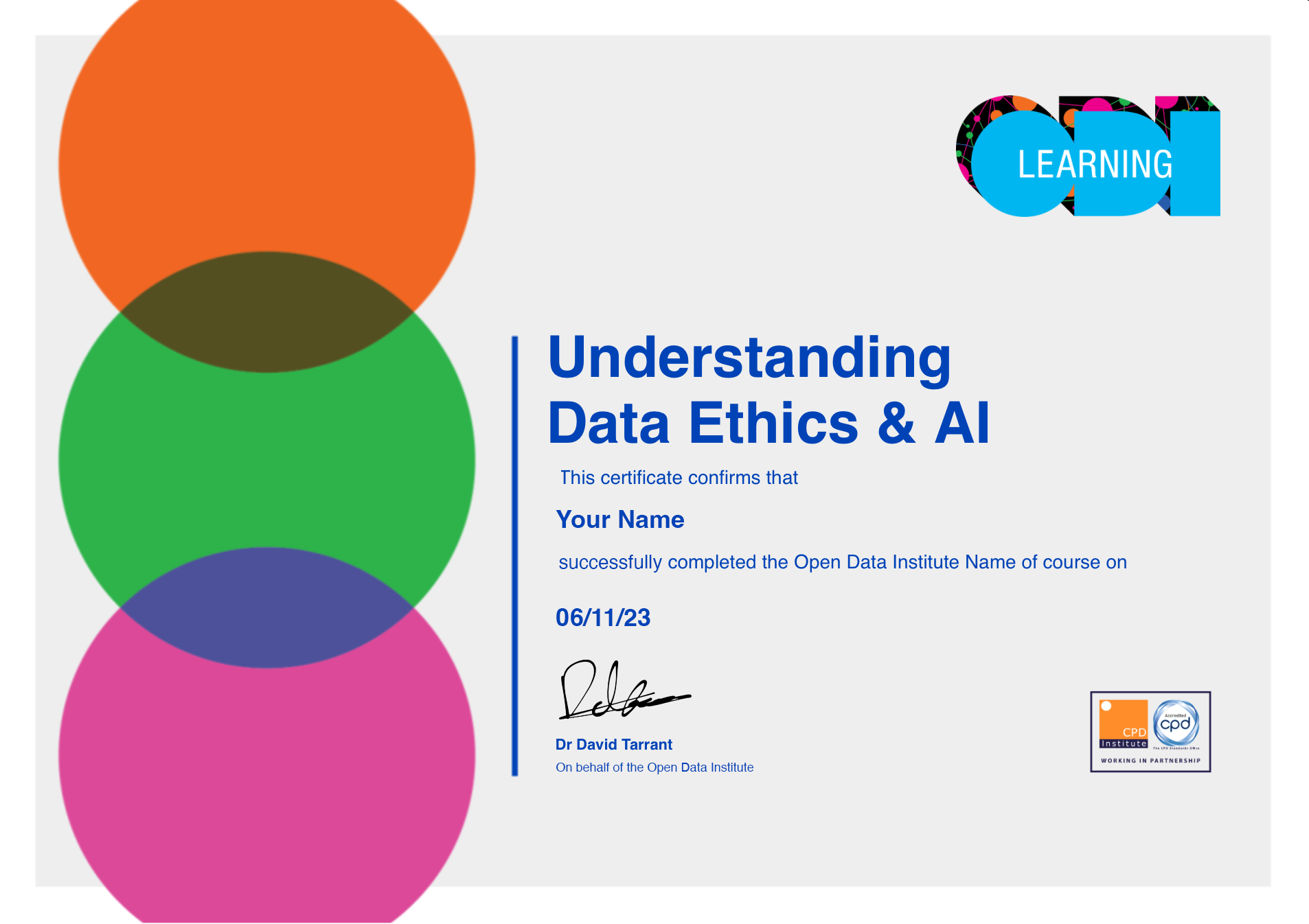 How the course works: the learning experience, pre-requisites and certificate.
This online course is not about simply reading, or watching videos. It is designed for active engagement, helping you prioritise the application of learning through authentic action.
The Understanding Data Ethics and AI curriculum is based on a decade of research and practical experience working with, training and advising data-intensive organisations such as Barclays, Sopra Steria and the UK Government.
Your learning experience includes:
Interactive, mobile-friendly learning materials.
Accessible content that uses simple, non-technical language
An AI tutoring assistant.
Support from the ODI team.
Knowledge checks.
6-months access to the content and our learning platform.
A certificate of achievement from the Open Data Institute.
What you need to know before you attend
There are no course pre-requisites and no previous knowledge of data is required. An understanding of how data is used in your organisation will help you apply what you learn and take practical action.
Certificate
Complete the course and assessments and you will be eligible for your Certificate of Achievement from the Open Data Institute
Value for you - value for your business
Successfully completing the Understanding Data Ethics and AI shows that you are ready to help any organisation successfully navigate the disruptive potential for data and AI. The course will enable you to:
Define the importance of data ethics as a domain
Describe the ethical challenges involved in collection, sharing and use of data and AI technologies
Examine the relationship between ethics and law
Consider how legal structures impact the approaches to creation and use of data products, services and technologies, such as AI
Analyse data projects to identify the intended and unintended consequences
Evaluate the ethical challenges associated with data
Develop an awareness of the potential impact on products, services and the use of data-enabled technologies
Identify common barriers to adopting approaches to data ethics within an organisation in order to foster transparency, explainability and trust
Explore the meaning of data ethics within your organisational context
Implement ethical data governance that mitigates bias and promotes fairness
Apply practical tools to investigate data use through the lens of data ethics
Develop actionable approaches to managing potential consequences of data-enabled products, services and AI technologies
Try our taster content for FREE & set the foundation for your learning journey
Eager to dive into the realm of data ethics and AI without any cost?
Our exclusive taster content is designed to ignite your passion for ethical data practices—all at no charge!
Learning Pathway: A Data Ethics Journey
Join our Community of Ethical Data Innovators by enrolling in the ODI's data ethics learning pathway, you're not just gaining knowledge – you're becoming a part of a vibrant community of like-minded individuals, committed to shaping a future where data is harnessed responsibly and ethically.
Elevate your expertise and embark on an exciting trajectory towards mastery. After completing Understanding Data Ethics and AI course, consider advancing to:
You may also be interested in