Tailored learning experiences: A dive into the ODI's self-paced and tutor-led data literacy courses
When it comes to learning, we all prefer different approaches, and that can vary depending on our circumstances. Sometimes it's better to work with an expert and peers tackling a complex topic intensively. At other times we need learning that fits around our schedule, that we can pick up when we want, and return to for reference.
At the Open Data Institute (ODI), we are committed to fostering an inclusive learning environment that accommodates a variety of preferences in our self-paced courses and tutor-led programmes. In this blog, we not only explore the distinctive features and benefits of both self-paced and tutor-led learning approaches but also highlight how the ODI places a strong emphasis on Diversity, Equity, and Inclusion (DE&I). We believe that a diverse and inclusive learning community enhances the educational experience for everyone.
Our goal is to help you choose which option works best for you or the learners you look after when it comes to developing data skills and literacy.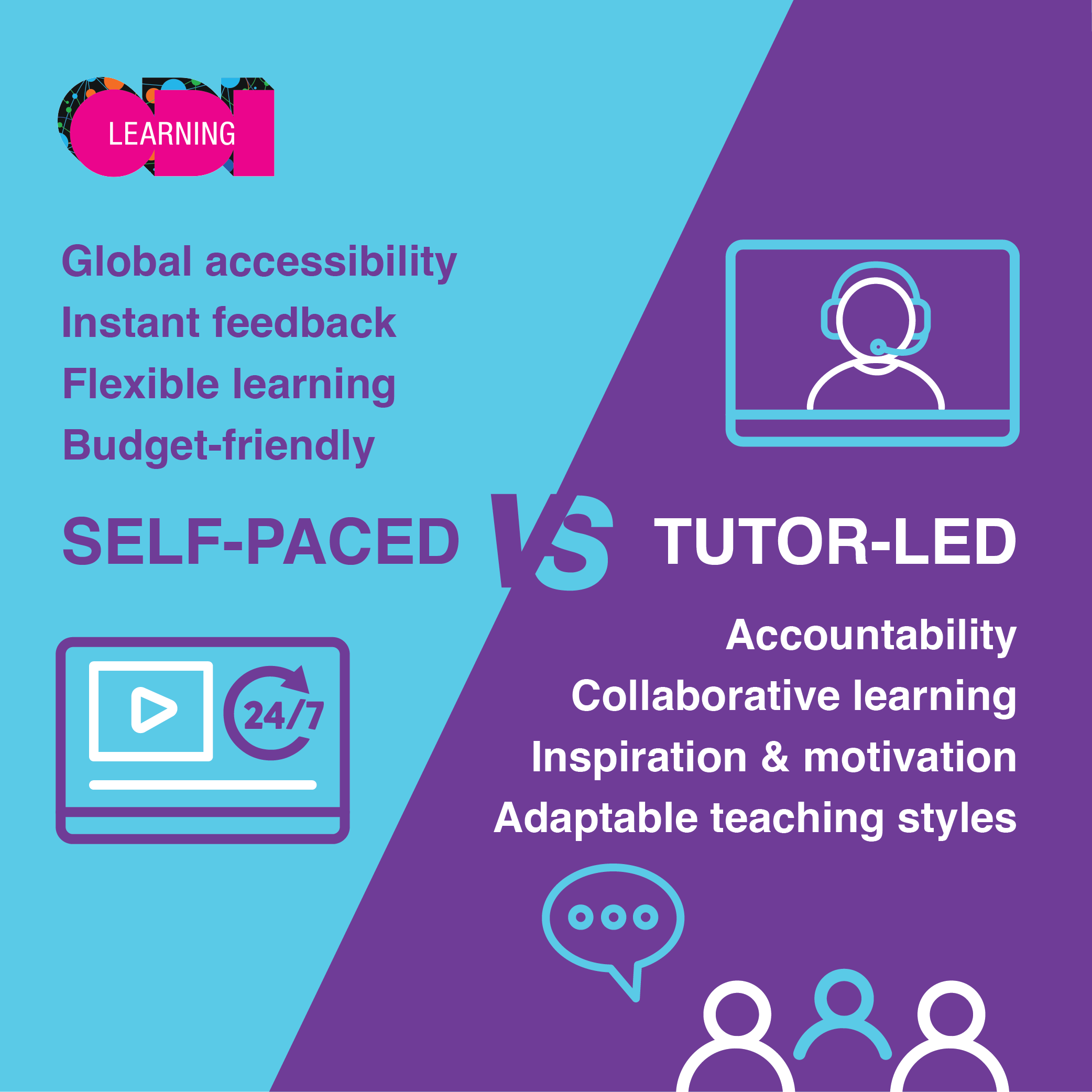 What is self-paced learning?
Self-paced learning represents a dynamic educational approach empowering learners to govern the pace and timing of their educational journey. It's important to dispel the misconception that self-paced learning equates to being self-taught. At the Open Data Institute (ODI), our self-paced courses go beyond traditional formats by distilling expert insights, practical methods, and theoretical concepts into diverse, interactive content. Unlike approaches that merely deliver text followed by quiz activities, our courses provide engaging experiences that allow learners real-time application of learning and skills throughout their educational adventure. You won't just receive static content; instead, our courses offer a dynamic and interactive learning experience.
The approach features:
🗓️ Flexibility: learners can complete courses in their own time, with access to materials for up to six months.
🌍 Global Accessibility: whether at home or on the go, the ODI's courses are accessible wherever you can access the internet.
💰 Budget-Friendly: self-paced courses unlock the power of knowledge without straining your wallet
🤖 Instant Feedback: the integrated AI tutor assistant in ODI Learning courses provides real-time tailored feedback based on learners' answers and solutions to activities.
⏳ Self-motivation and discipline:

the self-paced approach encourages the development of self-motivation and discipline as learners navigate the course at their own pace.
The features of tutor-led learning
Tutor-led learning is a more structured educational method where learners receive guidance and instruction from a qualified expert throughout their training journey. For us, this approach emphasises interactive and collaborative learning, fostering a supportive environment that goes beyond the capabilities of self-study. In tutor-led programmes, the tutor's role extends beyond that of a traditional instructor; they become mentors, motivators, and facilitators of a dynamic learning experience.
At the ODI, we particularly emphasise the importance of collaboration and networks in our tutor-led training, reflecting the reality of team-based work. We integrate group activities and exercises into programmes like Data Ethics Professional to encourage learners to connect with and to learn from each other's experiences.
🤝 Collaborative learning: interaction and discussion with other learners enrolled in the course facilitate collaborative learning. This social aspect enhances the overall educational experience.
🌟 Inspiration and motivation: our tutors serve as inspirational figures, providing feedback, and helping learners set goals and focus on their educational objectives.
📊 Accountability: the regular interaction between the ODI's expert tutors and learners creates a sense of accountability, encouraging students to stay on track with their studies and assignments.
🔄 Adaptable teaching styles: our tutors take an active role in the learning process, adapting their teaching style to accommodate the diverse needs and preferences of the cohort. This adaptability ensures that the material is presented in a way that resonates with each learner.
What self-paced and tutor-led learning courses can I take at the ODI?
Whether you fancy the freedom of cruising through things on your own or relish the camaraderie and motivation of a tutor-led experience, the ODI's course offerings match the diversity of needs we see in our community.
Celebrating the uniqueness of every student, the ODI Learning team ensures you're not just another component on a conveyor belt but rather an integral part of a community of like-minded individuals. Our approach is crafted to be an enriching journey tailored to your preferences, fostering inclusivity and a sense of belonging throughout your learning experience.
We offer:
Self-paced courses:
Tutor-led programmes:
Tutor-led short courses:
Next Steps
To learn more about ODI Learning, check out our courses.